Welcome to TelSoft
TelSoft delivers granular business insight to assist companies, industries and regulators to successfully navigate transitions to a 'real time' digital economy. We provide
network virtualisation and emulation software together with consultancy
to help our clients to accelerate the value derived from investments in fixed and mobile network services.
TelSoft specialises in the transition to packet-based cloud technology. We provide our clients with a methodology, processes design and software that supports demand-linked network deployment, so as to better meet customer needs and leverage Software Defined Network (SDN) capabilities to improve network functionality and
implement Dynamic Pricing and Wholesale Capacity Trading requirements.
Our software solutions emulate network elements on a one-to-one basis, so as to enabling our clients to
monitor and track Demand, Capacity and Costs dynamically.
The software dynamically tracks the linkage between where funds are expensed and where revenue is earned. This enables TelSoft's clients to set the right investment priorities so as to maximise the Return on Investment (ROI).
By continuous tracking of the financial impacts on the revenue side and the costs on the expense side, our customers develop a deep understanding of service profitability drivers, which in turn enables TelSoft's clients to align their network investment plans and marketing plans. We enable clients to continuously track and adjust tactics, so as to continuously align the engineering and marketing initiatives to achieve the company business plan and maximise profitability.
TelSoft was awarded the ACT Chief Minister's Award for Exporting to Asia
The Export Awards are Australia's most prestigious business awards for businesses looking across continents. Recognizing TelSoft's strong track record of work in Asia, the Australian government has awarded the 2016 ACT Export Award for exporting to Asia to TelSoft. See more information about the
ACT export awards
or
watch a video
of all finalists.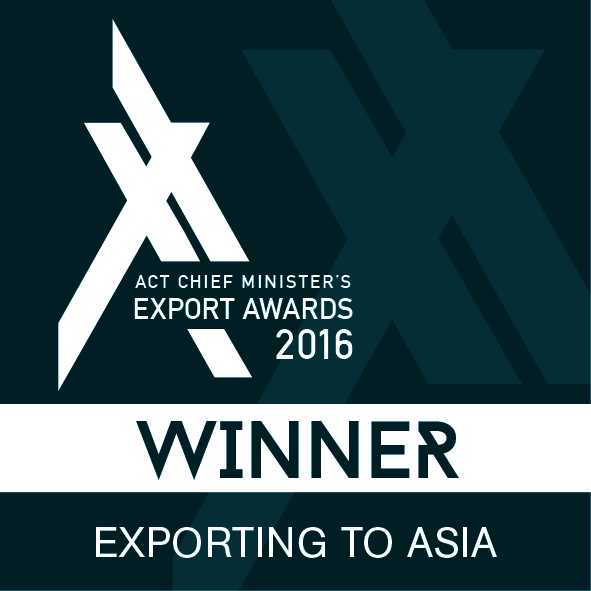 Telsoft finalist in ACT Export Awards 2016
TelSoft is a finalist in three categories of Australia's ACT Chief Minister Awards: 'Exporting to Asia', 'Business Services' and 'Small Business'.
The Chief Minister's Export Awards are Australia's most prestigious business awards. They acknowledge innovation, hard work and success of businesses and are a valuable recognition for TelSoft's growth in reaching new global markets.
Telsoft collaboration
ASEAN ICT ministers (TELMIN) in Vietnam discuss results from second phase of TelSoft demand study
With the upcoming launch of the ASEAN community in 2016, TelSoft is collaborating with TELMIN and TELSOM to ensure the ASEAN ICT Masterplan 2020 can target the right broadband connectivity for achieving the economic and development goals of the region.
Telsoft collaboration
TelSoft presents to 13th ASEAN meeting of ICT ministers (TELMIN) in Singapore
TelSoft presented our work on future data demand in connection with the ASEAN ICT Master Plan 2015 and beyond. The 13th ASEAN meeting of ICT ministers took place on November 13th in Singapore.
TelSoft leads a session on Digital Economy in Macau, China
TelSoft is moderating a session and presenting a paper in the 2nd annual Asia Pacific Telecommunity (APT) conference on Digital Economy, taking place between September 24th and 26th in Macau, China. The workshop focuses on encouraging development of content and applications as the Council of Ministers considered content and applications to be the main drivers of broadband economy in the Asia-Pacific Region. It is hosted by the Bureau of Telecommunications Regulation (DSRT) of Macao, China.
TelSoft participates in LTE Asia 2013 in Singapore
TelSoft is speaking in the 8th annual LTE Asia 2013 event, taking place from 17th to 19th of September 2013 in Singapore. TelSoft's presentation is part of the session on Costing and Monetising LTE, as the latest push for investments in 4G technologies makes more prominent the need for telecommunication carriers to revise their costing practices and focus on profitability improvements - a key area of expertise for TelSoft. TelSoft will also have a stand during the exhibition in Suntec Expo center.
TelSoft was part of the Business Dialogue that took place from the 21st to the 23rd of May 2012 in Bangkok, during the 12th APT Policy and Regulatory Forum of the Asia-Pacific Telecommunity (APT). TelSoft's talk was part of the opening session on the first day of the forum, and focused on the changing role of regulators in the new Telecommunications environment. With the proliferation of New Generation Networks, and the limitless possibilities for value creation in a broadband-connected society, the policies and regulations must be innovative to accelerate the growth of the digital economy in the Asia Pacific.